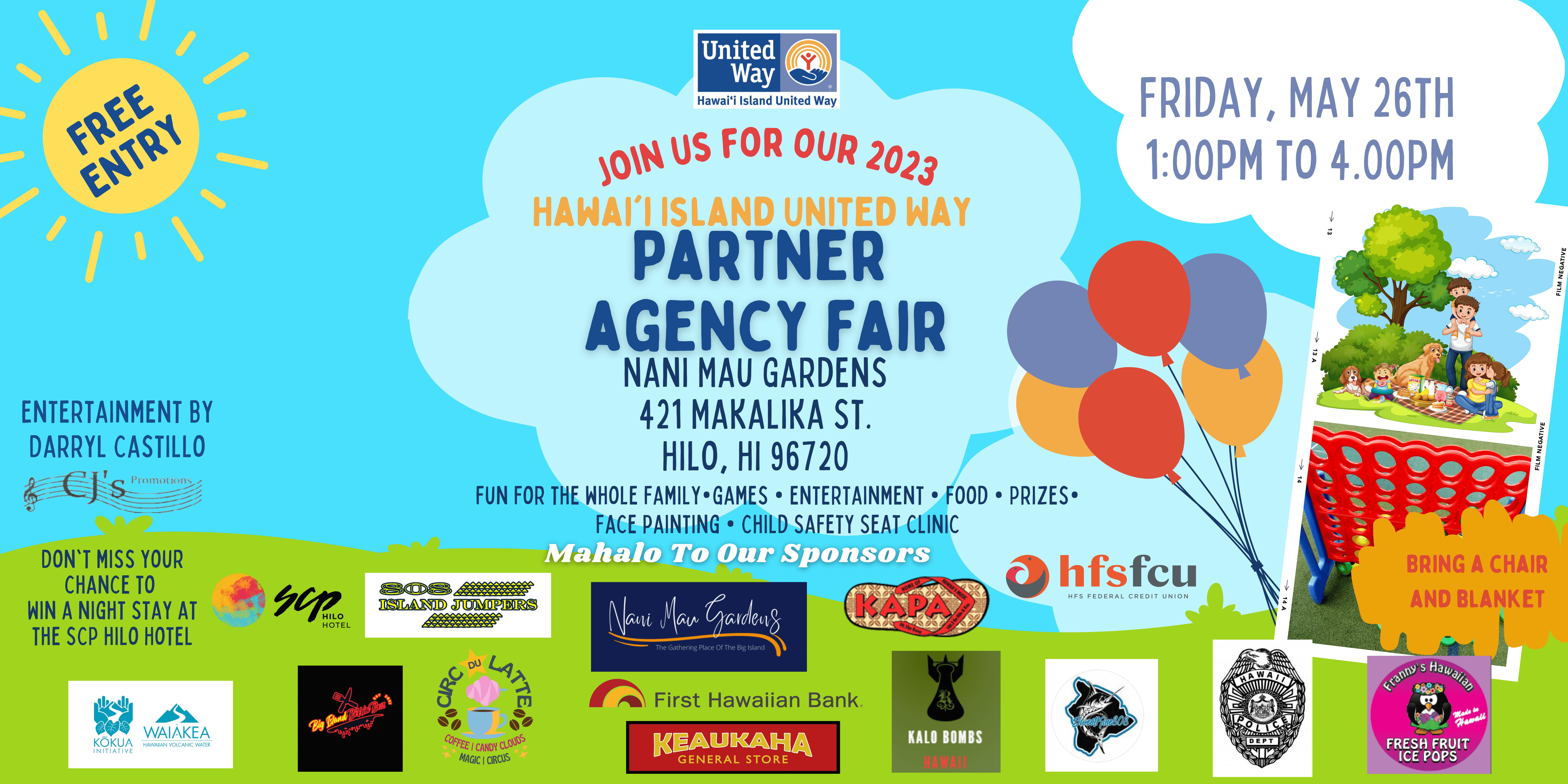 Join us Friday, May 26th, from 1 pm to 4 pm as Hawai'i Island United Way (HIUW) celebrates its partner agencies! Learn about their services, programs, and opportunities that help our community!
This is a free event for the community with food vendors, games, craft tables, free child safety seat clinic, free face painting, performances, and live entertainment. We encourage the public to bring blankets and/or beach chairs to sit and relax while watching the entertainment
Don't miss your chance to win a free hotel night stay at the SCP Hilo Hotel, free gift cards, and much more! See you there!
Partners Attending:
American Red Cross
Arc of Kona
Child and Family Services
Food Basket
Friends of the Children's Justice Center
Full Life
Girl Scouts Hawaii
Habitat for Humanity- Hawaii Island
Hawaii Island Adult Care
Hawaii Literacy
Kui'kahi Mediation
Kumukahi Health & Wellness
Legal Aid Hawaii
Mental Health Kokua
PATCH
Vendors & Sponsors:
Nani Mau Gardens
KAPA Radio
HFS Federal Credit Union
SCP Hilo Hotel
First Hawaiian Bank
Waiakea Water
808 Island Jumpers
Keaukaha General Store
Frannys Hawaiian Icepops
Kalo Bombs Hawaii
Sweetkine808
Big Island Birria Boss
Circdulatte
Hawaii Police Department