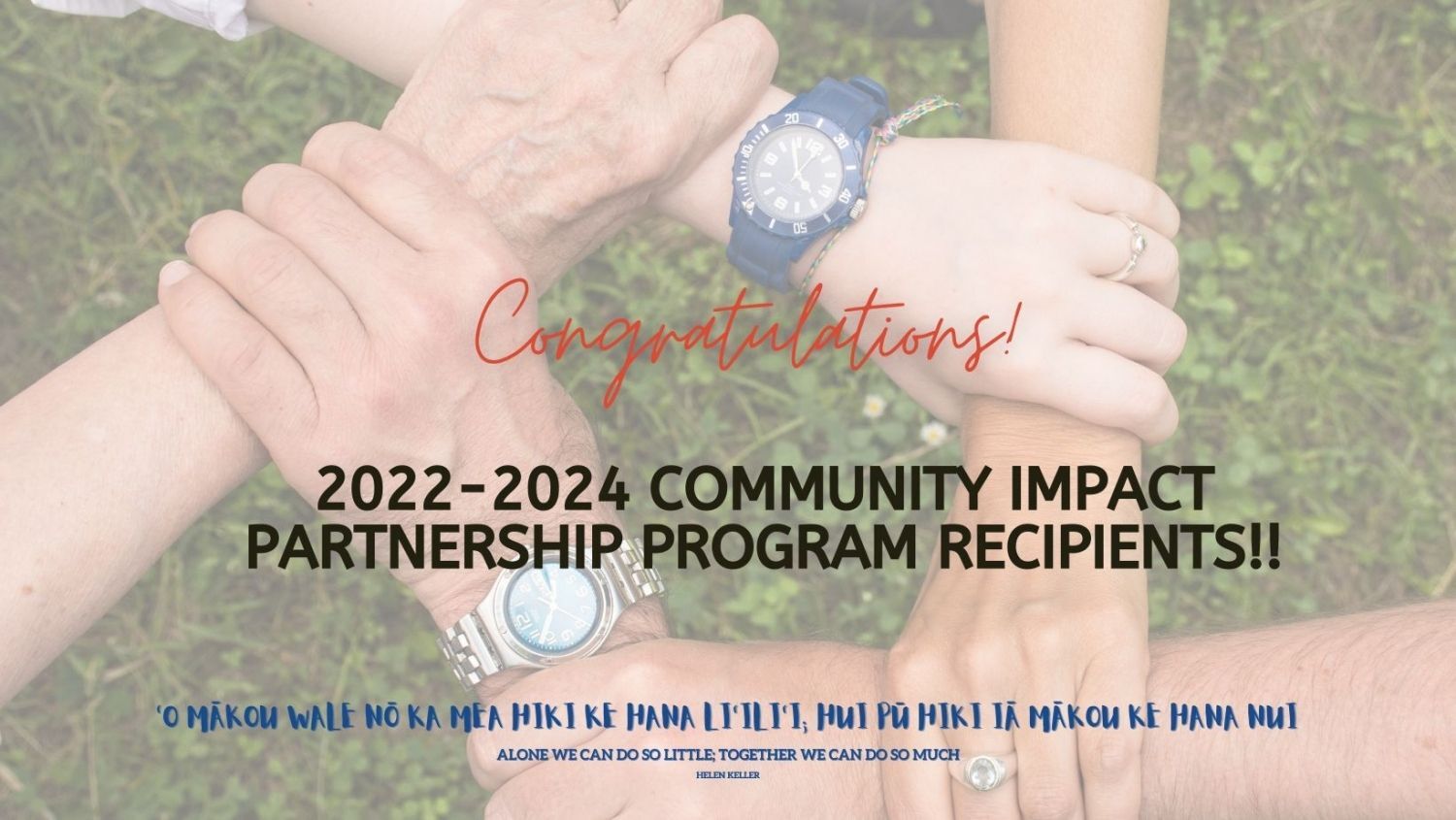 American National Red Cross
Disaster Preparedness & Response
808-935-8305 | Learn More 
Arc of Kona, The
Inclusion & Community Education
808-323-2626 | Learn More 
Boy Scouts of America, Aloha Council
Hawai'i Island Scouting Program
808-959-0079 | Learn More                                                   
Boys & Girls Club of the Big Island
Out of School Development Program
808-961-5536 | Learn More                                                           
Brantley Center, Inc.
Employment Rehabilitation Program
808-775-7245 | Learn More                                                            
Bridge House, Inc.
Vocational Skills Building
808-322-3305 | Learn More 
Child and Family Service
Abuse Treatment Services & Shelter
808-323-2664 | Learn More                                                                                    
Family Support Hawai'i
Fatherhood Initiative & Youth Mentoring
808-326-7778 | Learn More                                                                                            
Food Basket, Inc., The
Emergency Food, Keiki Backpack & Senior Brown Bag Feeding Programs
808--933-6030 | Learn More                                                        
Friends of the Children's Justice, Center of East Hawaii
Emergency & Special Needs Program
808-935-8755 | Learn More                                                                              
Full Life
Person-centered support services
808-935-7699| Learn More                                       
Girl Scouts of Hawai'i, Inc.
Girl Scouts Leadership Program
808-966-9376 | Learn More 
Habitat for Humanity Hawai'i Island
Building Homes, Communities, & Hope
808-331-8010 | Learn More 
Hāmākua Youth Foundation
Enriching Programs for High-Risk Youth
808-775-0976 | Learn More
Hawaii Care Choices
Supplemental Bereavement Program
808-969-1733| Learn More 
Hawai'i Island Adult Care, Inc.
Adult Day Care & Caregiver Support
808-961-3747 | Learn More 
Hawaii Island Home for Recovery Inc. (HIHR)
Outreach, Transitional, & Permanent Housing
808-934-7852 | Learn More 
Hawaii Literacy/Kona Literacy Center
Reading Skills
808-537-6706| Learn More
Ku'ikahi Mediation Center
Conflict Prevention & Resolution Education Self Determination through Mediation
808- 935-7844 | Learn More 
Kumukahi Health & Wellness
HIV & STD Prevention Programs
808-982-8800 | 331-8177 | Learn More
Legal Aid Society of Hawai'i
Removing Legal Barriers to Improve Health
800-499-4302 | Learn More 
Mental Health Kokua
Residential Rehabilitation Services
808-737-2523 | Learn More
Neighborhood Place of Puna
Family Strengthening, Support, & Outreach
808-965-5550 | Learn More
PATCH—People Attentive to Children
Child Care Resources
808-961-3169 | 322-3500 | Learn More 
Salvation Army Kona Corps, The
Emergency Food & Social Services Program
808-326-2330 x 0 | Learn More 
Salvation Army Hilo Temple Corps, The
Emergency Food & Social Services Program
808-934-9724 | Learn More
West Hawaii Mediation Center
Community Mediation
808-885-5525 | Learn More 
YWCA Hawaii Island
Developmental Preschool
808-935-7141 | Learn More