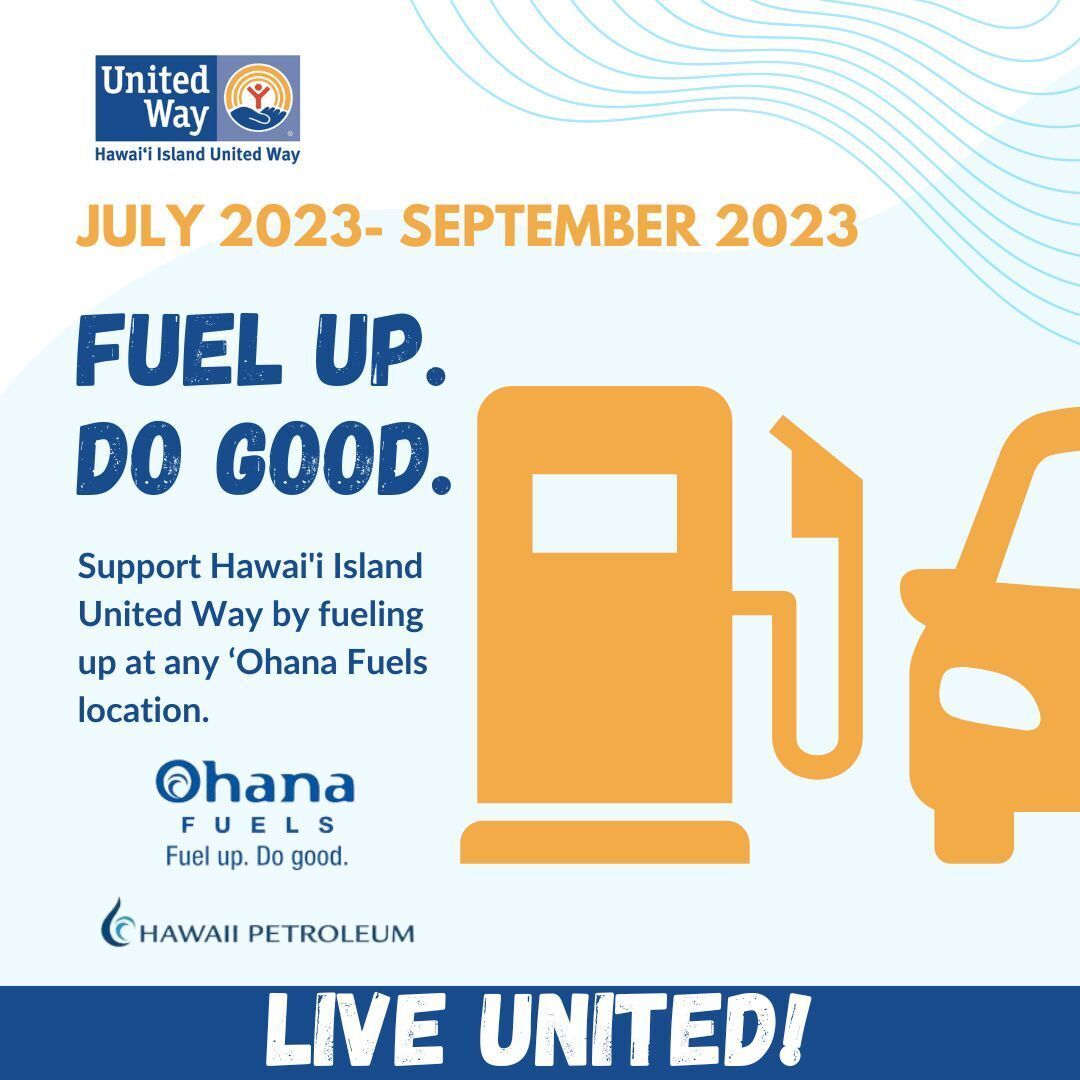 [Hilo, Hawaii] – Hawai'i Island United Way is the latest beneficiary of Ohana Fuels' "Fuel Up. Do Good." program. Through this program, Ohana Fuels partners with local nonprofit organizations that serve the needs of Hawai'i Island and Maui communities and donate a portion of every gallon of gasoline purchased at Ohana Fuels locations in the local community of that organization.
Starting July to September 2023, a portion of all sales at Hawai'i Island's Ohana Fuels locations will be donated to Hawai'i Island United Way (HIUW). The last organization to team up with Ohana Fuels, Partners in Development Foundation, received almost $7,000 from the "Fuel Up. Do Good." program for Project Pilina.
Ohana Fuels is a retail fuel brand for Hawai'i Petroleum that provides quality fuel for Hawai'i Island and Maui residents. Ohana Fuels has many convenient, clean and safe locations, including eight Maui stations and eight Hawai'i Island stations. Hawai'i Petroleum is committed to giving back to the community and the people living in the neighborhoods that they serve. They proudly support organizations and missions important to their communities through the "Fuel Up. Do Good." program, where you can feel good about helping your community whenever you fuel up.
Karen Davis, HIUW's president and chief professional officer, shares, "Hawai'i Island United Way is excited to be part of Hawaii Petroleum's Ohana Fuels 'Fuel up. Do Good.' Community Giving Program, which supports local nonprofits that work hard to strengthen our communities. Please join HIUW and Hawaii Petroleum in making an impactful footprint in our community by purchasing your Fuel at Ohana Fuel stations island wide. Mahalo nui loa to Hawaii Petroleum and Ohana Fuels for your generosity and for choosing us to be a part of your program."
About Hawai'i Island United Way
Hawai'i Island United Way is a 501 (c) 3 charitable non-profit organization. Established in 1967, HIUW partners with and funds 36 local health and human service programs for disadvantaged and/or underserved individuals and families here on Hawai'i Island. For more information about Hawai'i Island United Way, contact our office at (808) 935-6393, visit www.hiuw.org or stop by our office at 688 Kinoole St. Suite 201, Hilo, HI 96720.
Contact:
Chelsy Walport
Hawai'i Island United Way
(808) 935-6393
campaign@hiuw.org